Aquí  https://moneditis.com/tag/falsas-de-subastas/  y  aquí  https://moneditis.com/tag/falsas-de-subasta/  hablo del tema en diversas entradas de este blog.
Aquí el origen  https://www.imperio-numismatico.com/t77060p500-falsas-de-subastas
Últimamente miro poco las subastas, cada vez más numerosas. Si que buceo en diversos foros y/o medios relacionados con la numismática. De uno de ellos
https://www.cointalk.com/threads/and-another-leontini-obvious-fake-on-auction.349133/?utm_source=feedburner&utm_medium=email&utm_campaign=Feed%3A+cointalk+%28CoinTalk+Update%29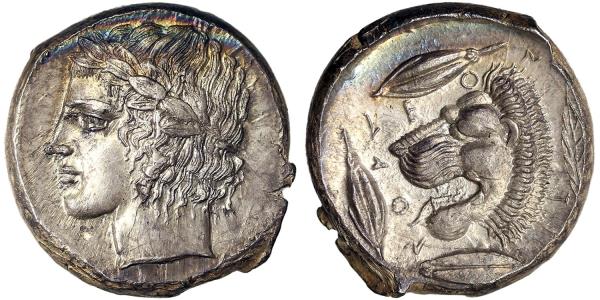 And another leontini obvious fake on auction Discussion in 'Ancient Coins' started by pprp, Friday at 5:19 PM.
After studying at least 500 of these I can immediately recognise a fake. This particular one passed from a Roma Numismatics esale of 2015 and is fake beyond any doubts. 
Gadoury is an old auction house and I don't think anyone could blame them for the SNG ANS 234 they have on sale. It is a VERY convincing fake which would fool any auction house; it is also not commonly offered. I wait for Barry Murphy to offer his view, but in fact the only unknown parameter for me is whether the committee which condemned the coin based on stylistic differences changed afterwards their opinion. MDC is new auctioneer and I guess they relied on the ROMA provenance. The SNG ANS 257 is the most common and quite convincing fake circulating. However, there is big experience in the area and huge threads written in many fora about it and it is quite easy to pick out the fake ones after 30 years of their first circulation. This is really non-forgivable especially since ROMA has asked acsearch to disable comments for their auction; if I remember well it was already tagged there as fake. 
Poco más que añadir. Dentro de nada el tema de las falsas se nos escapará de las manos…tendiendo, a su vez, a n! el número de casas de subastas. ¡Qué cada cual arrime el ascua a su sardina! jeje
P.S. Hoy hace seis (6) años que este blog comenzó…Quizá algún día os cuente mi teoría sobre ciclos – sexenios  😉