¿Fin de colección? como imagen de cambio de época; grandes colecciones a la venta, perdiendo su unidad única en la inmensidad coleccionista. Colecciones forjadas a lo largo del siglo pasado y que vuelven a diluirse en este; cosas del dinero y los cambios generacionales
El pistoletazo de salida, para mi, fue la subasta de la Colección Huntington perteneciente a la  Hispanic Society of America (HSA)  https://www.catalogodemonedas.es/?q=node/1423
Desde entonces, o poco antes de, innumerables colecciones menores y no tan menores han ido desfilando por distintas subastas. Así de memoria: Cores, Ridao, Pineda, Guerrero, Guinea, Shoshana, Caballero de Yndias, Prospero…
http://monedas-antiguas.blogspot.com/2012/01/el-top-five-de-la-subasta-de-la.html
El tirón fuerte fue entre 2009 y 2012, pero no han parado de ir apareciendo monedones. Los gustos van cambiando y las nuevas generaciones de numísmatas no creo que puedan hacerse cargo del legado de sus mayores. ¡Que felices los años 80 y 90! (precedidos de 19) El punto de vista coleccionista va dando paso al inversor que, ante los cambios de ciclo, se deshace rápidamente de los activos.
https://moneditis.com/2017/03/31/20-us-dollars-saint-gaudens-1907-double-eagle-xrf/
En definitiva y uniendo el artículo anterior  https://moneditis.com/2019/10/12/piramide-invertida-de-exter/  suponiendo que los metales preciosos lleguen a revalorizarse x5 porque el FIAT (papel) se desvalorice en esa misma proporción por pérdida de confianza / emisión infinita, los monedones de oro con mucho valor numismático no se revalorizarán en la misma proporción que el simple oro. Ya lo viví en directo en los 90 en el desplome de la URSS…aunque en este caso creo que la crítica situación de entonces no sería comparable…o quizá si…
P.S. https://www.biddr.ch/auctions/ngsa/browse?a=790&l=831309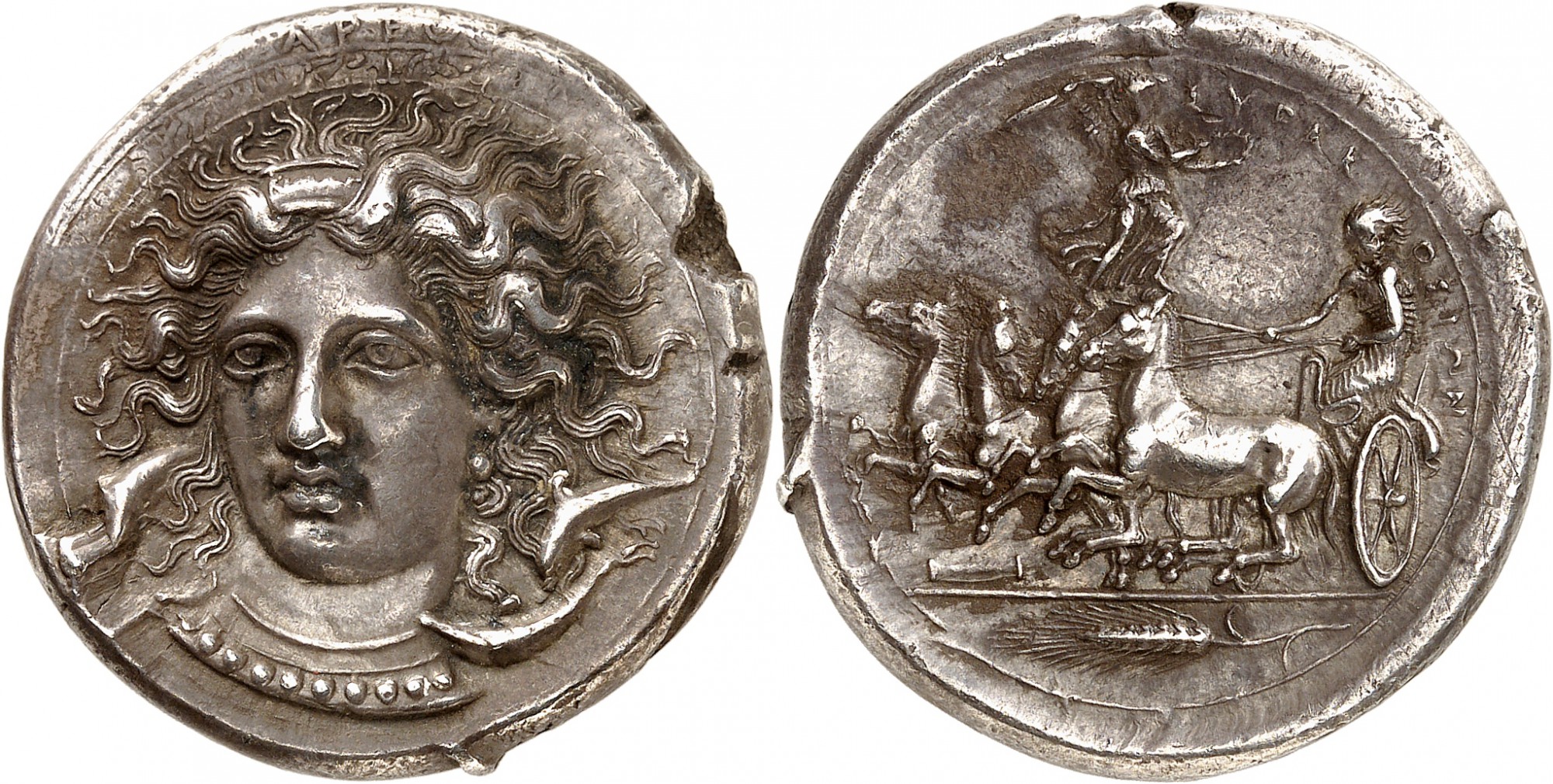 Descripción
Sicily.
The most important Greek silver coin ever sold.
Syracuse. Silver Tetradrachm signed by Kimon, circa 405-400 BC. APEƟOΣA Head of Arethusa facing, slightly inclined to the left, wearing two necklaces; her hair flows on soft wawes around her head; on the ampyx over her forhead, the signature KIMΩN; on right two dolphins swimming and a third emerging from the hair to the left / ΣYPAK OΣIΩN Quadriga galloping to the left; the charioteer, holding reins and kentron, looks back at his pursuers; above Nike presenting a wreath to the charioteer; ear of barley in exergue. 16,90g. Rizzo pl. XLVIII, 10 (this obverse die); Gulbenkian 292 (these dies); Fischer-Bossert pl. 5, 9 (these dies); Kraay-Hirmer 122 (this obverse die) and 123 (this reverse die); Kunstwerke der Antike (this coin); Schefold WM 492 (this coin); Tudeer 79 (these dies).
Certainly the most beautiful greek coin in private hands. A masterpiece of sublime style. Extremely rare.
From the collection of Robert Käppeli (purchased before 1960) and the auctions Leu 76 (27 October 1999), 57 and NAC 77 (26 May 2014), 17.
Though the facing-head portrait eventually became familiar at Amphipolis, Larissa, Rhodes and Tarsus in the 4th and 3rd Centuries B.C., it seldom was attempted in the West. The few facing-head dies from Sicily are acknowledged masterpieces, including this phenomenal work of Kimon, whose Arethusa Soteira, became a model for artists throughout the Mediterranean.
The richness of this artist's work cannot be overstated, for the style and composition of this coin is essentially perfect. The details of the Arethusa's portrait are richly engraved, with their impact being intensified by the playful dolphins that dart through the floating strands of hair in the surrounding water.
Katherine Erhart, in her dissertation on facing head Greek coins, offers praise: «…the master-engraver Kimon created a facing head of the fountain nymph, which is easily the most beautiful coin of all time, one applauded by ancient die-engravers and modern critics alike. … No other engraver before or since has so magnificently exploited the compositional potential of the small circular coin flan.» The combination of the obverse depicting 'Arethusa the Saviour,' a reverse dedicated to a victorious charioteer, and the innovative and remarkable quality of the dies, earmarks this as a commemorative issue. As such, it has been associated with the defeat of the Athenian fleet at Syracuse in 413 B.C. and with the good fate of the Syracusans in the otherwise devastating Carthaginian invasion of Sicily in 406/5 B.C.
This issue broke with about a century of Syracusan tradition by using this portrait as the obverse rather than the reverse. This decision probably was rooted in practicality since the reverse die is more vulnerable as it absorbs the full energy of the hammer blow. Just a few years earlier one of the two facing-head reverse dies engraved by Eucleidas (Tudeer reverse die 37) developed a fatal crack beneath Athena's chin that widened with each successive strike. This must have guided Kimon's decision. However, after Kimon's ambitious facing-head the portrait on tetradrachms at Syracuse returned to being shown in profile on the reverse die. Indeed, it was not until Agathocles revived the tetradrachm at Syracuse toward the end of the 4th Century that the head became the obverse, in keeping with other Greek mints of the era.
Kimon's work for this issue consists of two obverse and two reverse dies. Both obverses were used with both reverses, and none of the four dies was used with any other die – all further evidence that this was a stand-alone series made for a special occasion.
Considering the effort expended by Kimon, it is worth commenting on the relative merits of his four dies, three of which he signed. Both obverse dies are masterful and unique creations, but if the more accomplished must be chosen it would be Tudeer's die 28, the one used to strike this coin. The portrait on that die is more mature and focused than the one of Tudeer 29, where Arethusa's gaze is engaging, yet tentative. Both have equally playful arrangements of the dolphins, but on this die they are cut deeply and boldly, whereas on die 29 they are softly engraved, almost as if they were an afterthought. Die 29, however, is of greater academic interest, for it bears the inscription ΣΩ (abbreviating ΣΩTEIPA, 'saviour' or 'deliverer') cleverly hidden in the curls of Arethusa's hair.
Both reverse dies show a quadriga in high action, viewed at a slight angle. They represent momentary snapshots of a victorious team turning the bend as the charioteer attempts to contain the collective power of his team. The reverse dies are so different in their arrangements that it is impossible to make a choice on merit alone, and we might conclude that they are equally accomplished.
The die used to strike this coin, Tudeers 54, is lively and powerful, yet it still possesses a sense of formality that is amplified by the unusual, upright posture of Nike, who advances toward the driver. The heads of the horses toss about in a precise arrangement that by this time had become canonical at Syracuse: the outermost horses maintain relatively controlled postures as the heads of the interior horses toss about wildly. The placement of a fallen meta (turning post) beneath the horses only adds to the drama of the scene. Text: courtesy of NAC.